Power Africa and ITAN: Introductions to Public-Private Partnership (PPP) and Project Finance Overview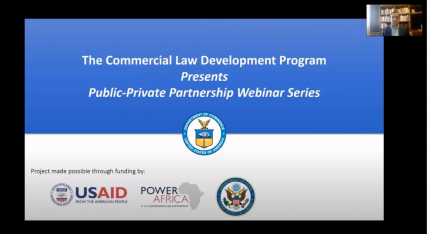 On May 28, CLDP held the inaugural webinar of CLDP's public-private partnership (PPP) webinar series. The first session discussed how a private finance PPP project is structured. Experts provided an overview of project finance and its distinct phases; project finance structures- debt, equity, and risk mitigation; the difference between financing and funding as well as a review of how project finance compares to other PPP tools, such as concession agreements. The webinar is part of a PPP series developed for Power Africa and the Indo- Pacific Strategy.
To learn more about the PPP webinar series please fill out the registration form linked here.